Easily obtain automobile information through wireless LAN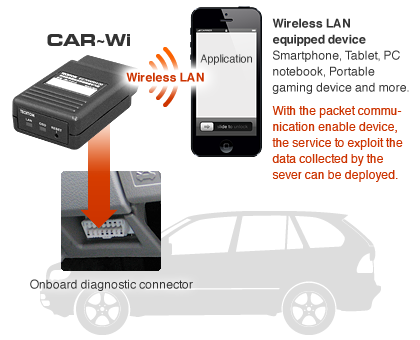 Car~Wi is a small onboard adapter equipped with wireless LAN module to obtain automobile information. It enables your smartphone to receive and display a variety of information collected by the engine control computer when utilizing third party application software.
This device can adapt to various usages such as additional meter to assist driver or be a service probe to utilize packet network of mobile devices depending on the installed third party application software. Simply connect the device to the connector on the car and installation is done. (*)
It comes with data acquisition in addition to the real-time data transmission to accommodate a wide range of personal or business needs. Car~Wi can be installed as simply a data acquisition device and data can be collected at certain times without using real-time data transmission. Both 12V and 24V power voltage can be used so the system can be expanded to truck applications. (This device can act as both base unit and extension unit for the wireless LAN)
(*) some automobiles may require additional power signal input.
Vehicle information will change the world
From driver's operation management to personal activity logging, Car~Wi can be used in many different fields.
*Device with applicable wireless LAN and application software is required to use this product.
It does not work as standalone device.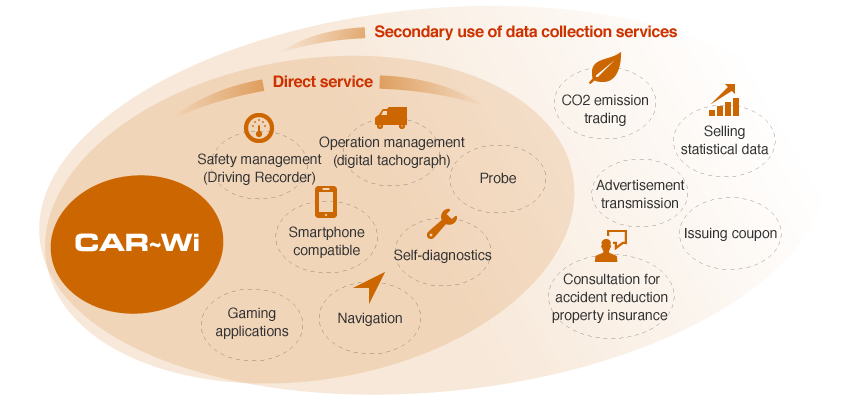 For using of this product, you need to develop an application software for devices which you will assign.
Official notation of "CAR~Wi" in Japanese trademark registration is as following.

Product specifications
Standard model number
EC70WRN-00
Interface (Vehicle)
K-Line and CAN
Dimension
44(W)×73(D)×24(H)mm (exclude projection)
Weight
56g
Rated value
Power supply
DC11~28V
Power rating
less than 60mA (When wireless LAN transmission working)
On sleep mode less than 5mA(12V)
Operating temperature
-20℃~85℃
Option
External power signal input cable kit
Extension cable for installation
*Now Car~Wi is available on Japanese domestic cars.
Copyright c 1998-2016 TECHTOM Ltd. All Rights Reserved.